Some of our Rental Projects
Double Bedroom Apartment Den Hague
We have had many furniture rental projects so far but this one was special. This beautiful apartment located on the 17th floor was spacious, light and had a breathtaking view. Our aim was to incorporate this spaciousness and view into our furniture. And we pulled it off! The interior complements the view of the apartment and is an asset to the characteristics of the accommodation.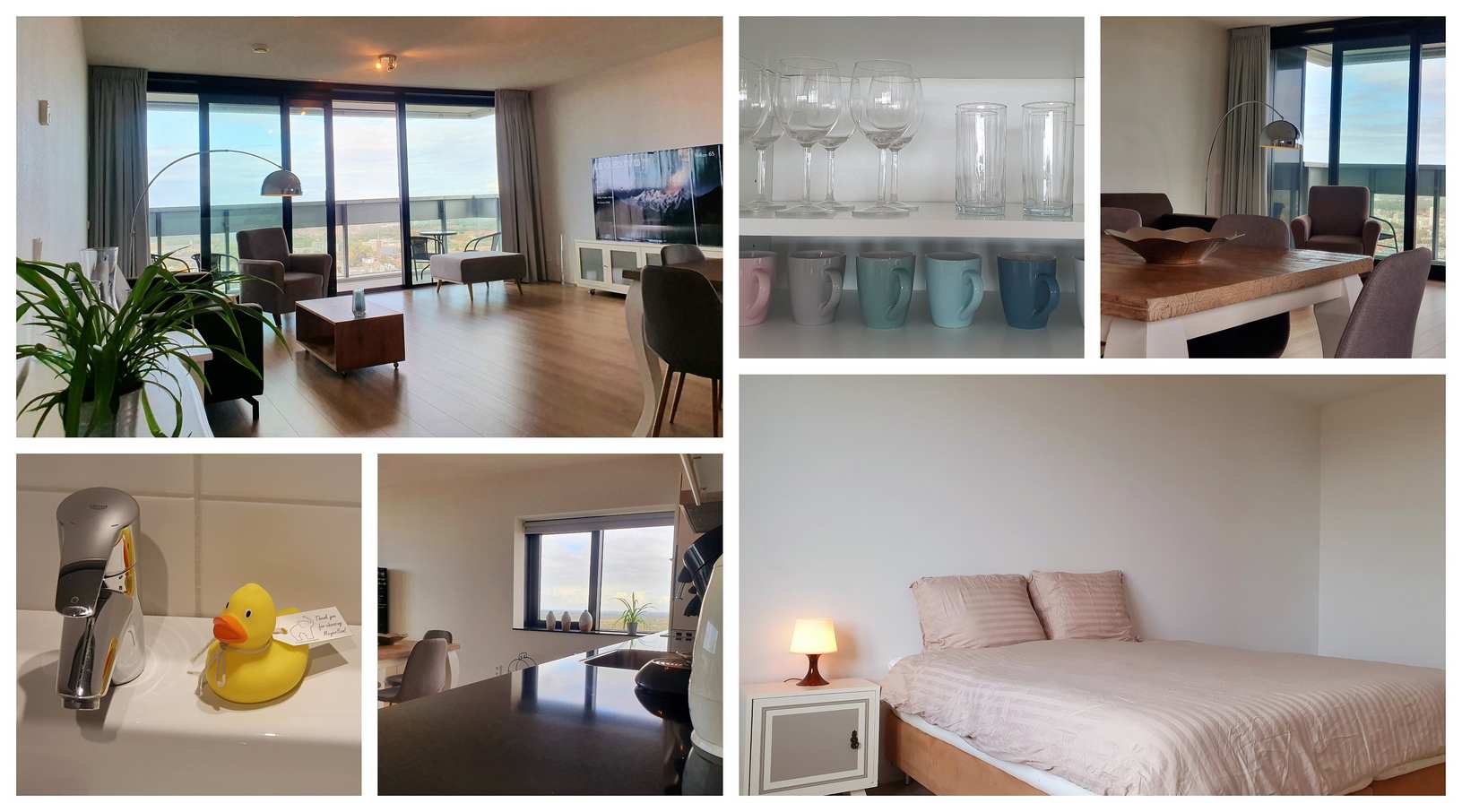 Art Nouveau Princess Bedroom
We were very much honoured when our client (and now dear friend!) asked us to redesign her bedroom. She asked for a princess and art nouveau interior. The furniture, a Jugendstil bedroom-set from around 1900, had to be refurbished so it would endure another 120 years. We worked on the bed, wardrobe, night-stands and beautiful make-up table with pleasure… and with great results! The bedroom-set is stunning and will last for another few decades to enjoy by generations to come.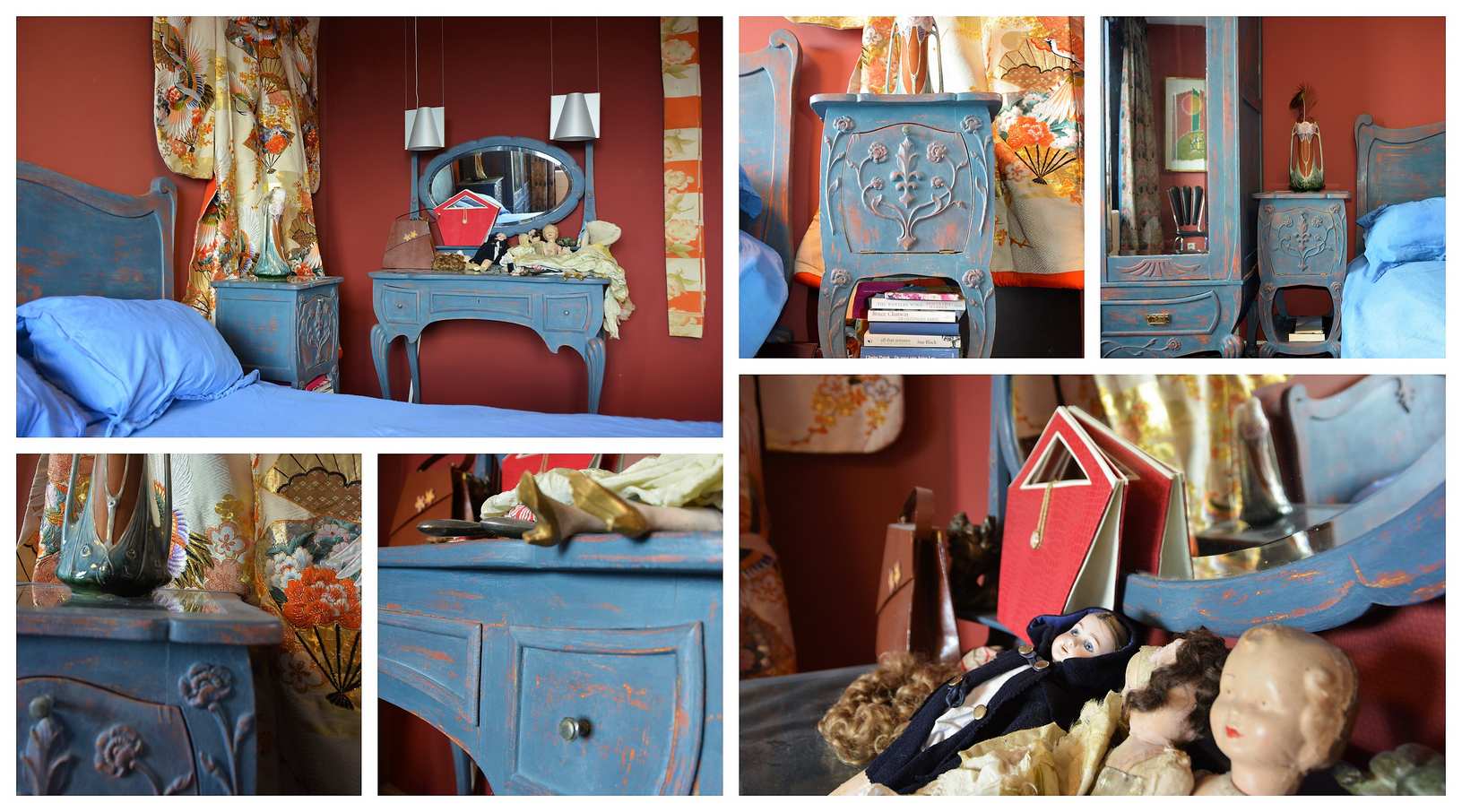 Student Budget Interior Amsterdam
For this rental project we had to act fast. The request was on Friday to be delivered on Monday. On a budget. A student budget that is! We like a challenge and most of all to help out, especially when you're new to the Netherlands! We delivered a more than complete living-room, dining area, complete kitchen set and a huge(!) 180*200 boxspring-bed to get some well deserved rest. And all within budget so our client has some money to spend on socializing and study books!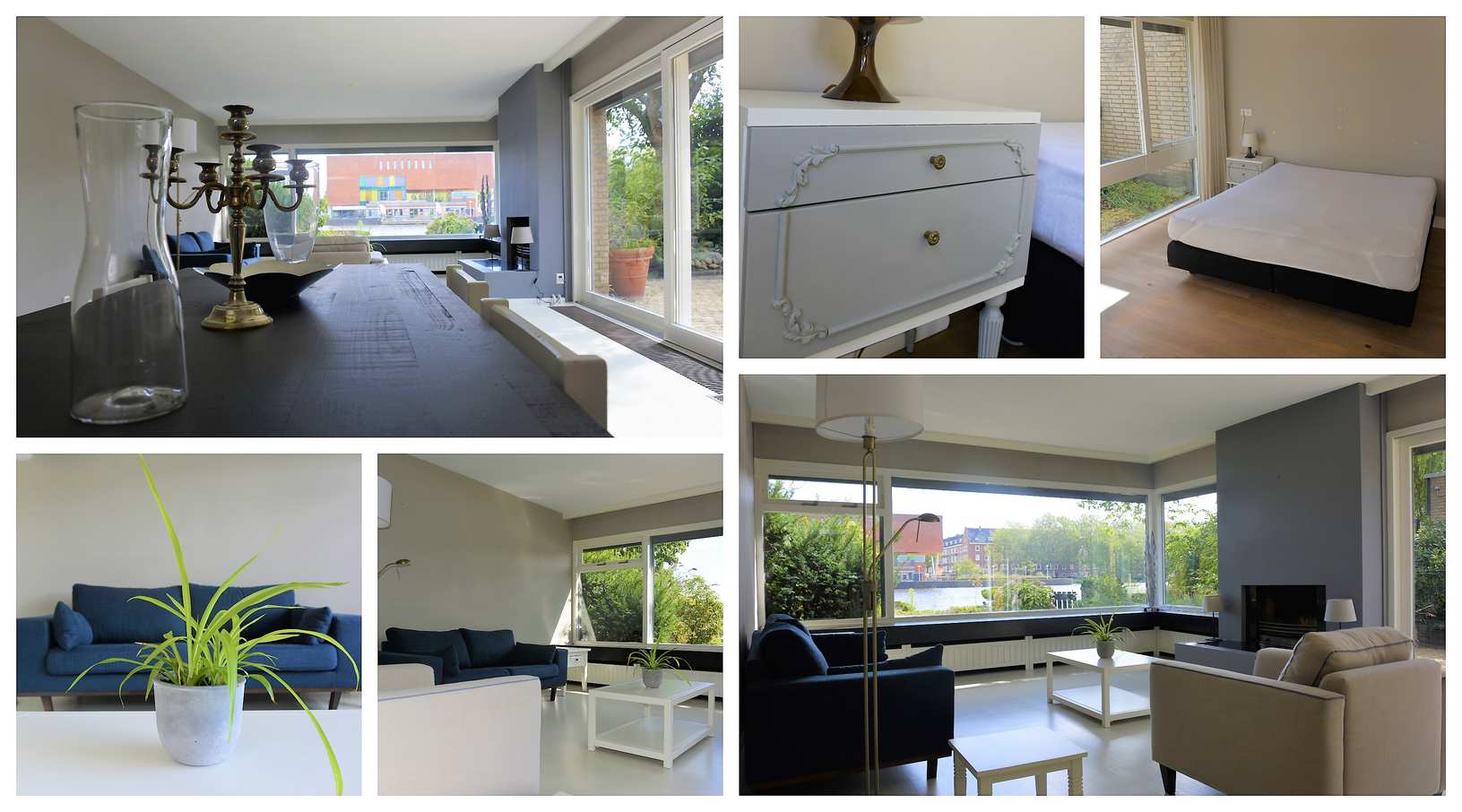 Classic Maisonette Den Hague
For this beautiful apartment we managed to create a beautiful bohemian and spacious interior. Because out lessee has a little boy we created a special superman room for him! Yes we did!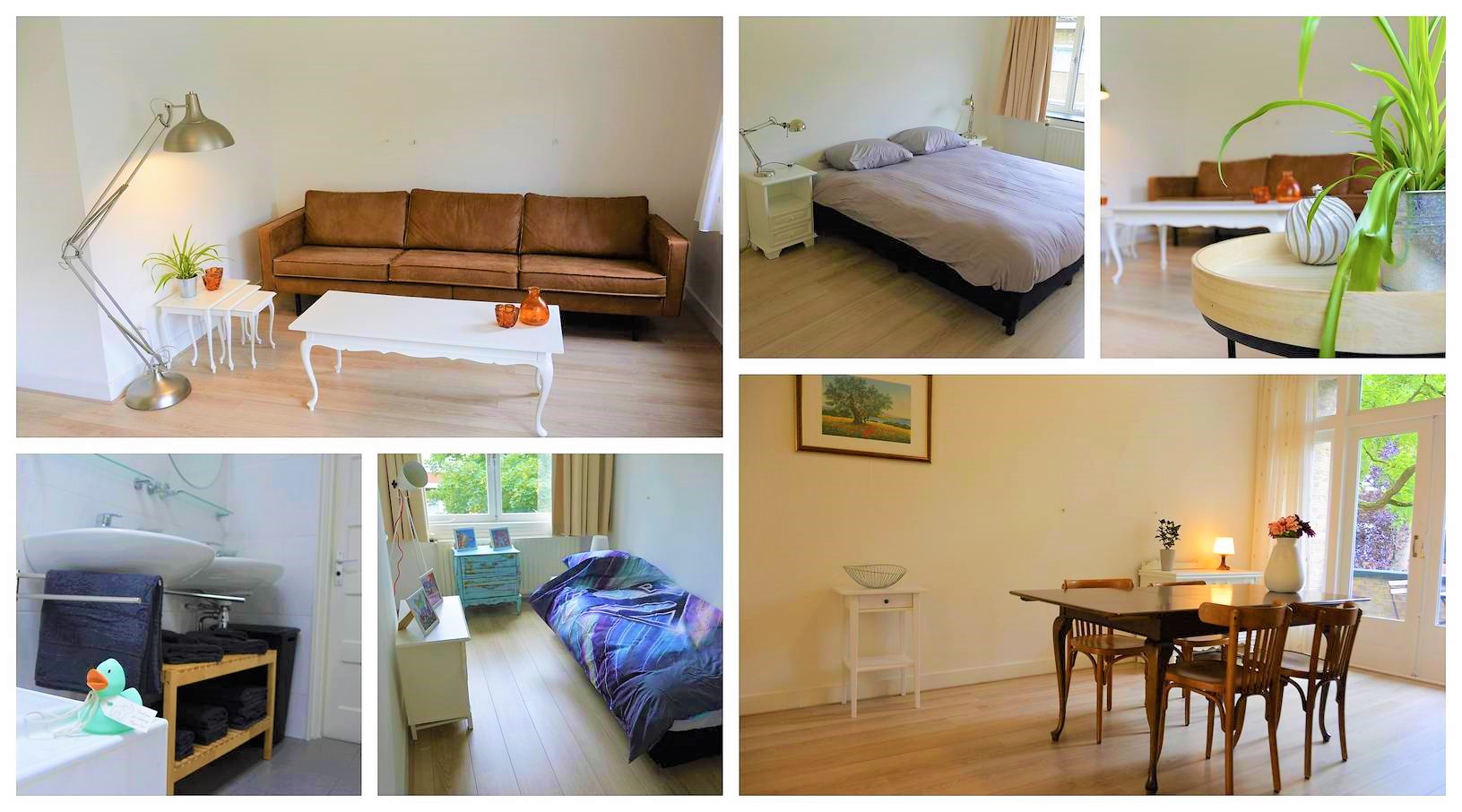 3 Bedroom Villa Veldhoven
For this rental project we were asked to create a spacious and timeless interior for a gorgeous modern 3 bedroom villa in Veldhoven. We made a special turquoise boy's bedroom and managed to keep the master bedroom both spacious and cozy at the same time!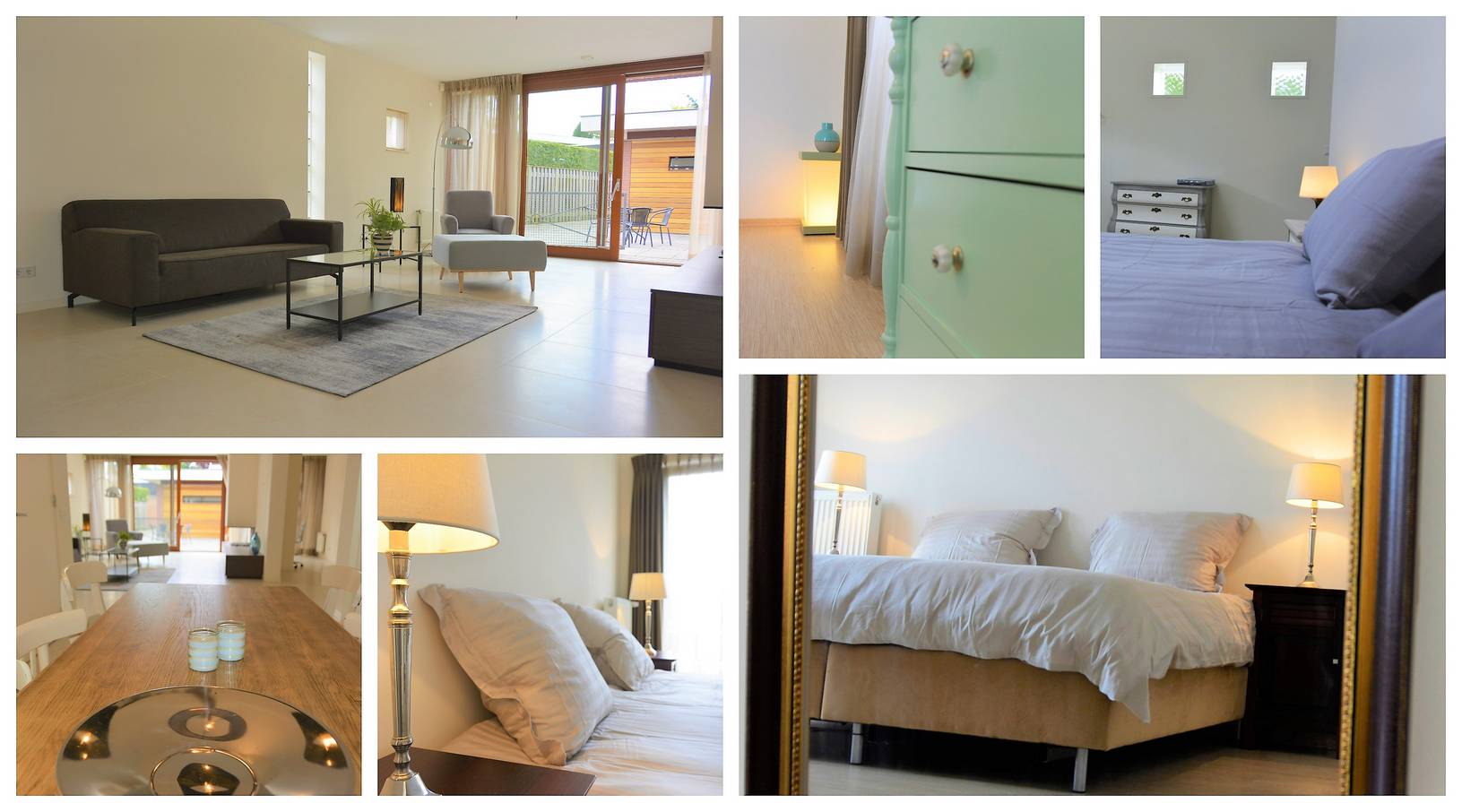 For this rental project we had to work with a budget. And, if we may say, managed to make this house better than great! Our interior was tailor made for his beautiful 1930's residential home in the city center of Den Hague. Our aim was to make our clients feel at home the moment they walked in, and we did! This house is beautifully furnished and was 100% suit-case ready when they finally arrived in their new home!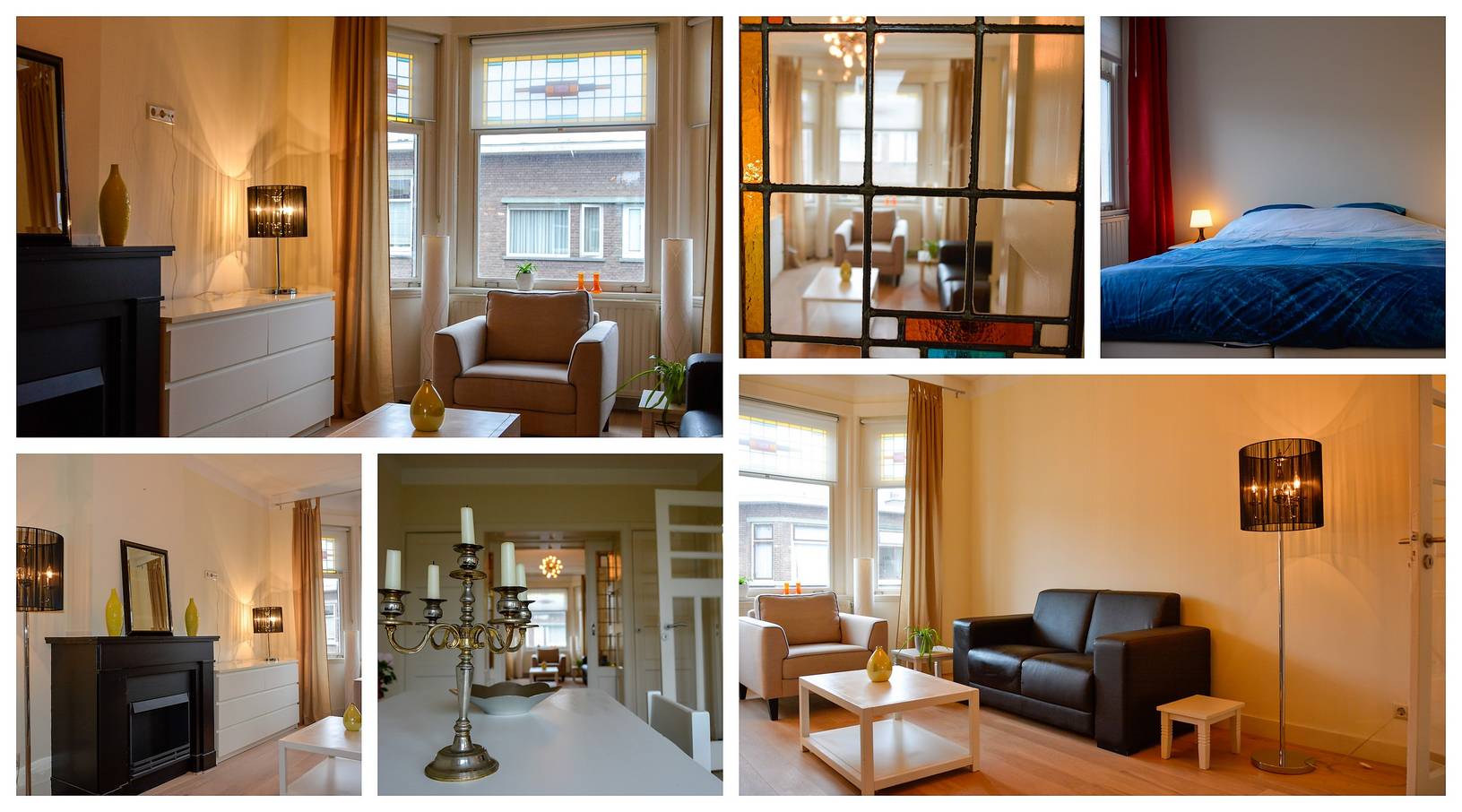 Tailor Made Interior for Loft – Den Hague City
This rental project is special. We custom build an interior for our client's 2 bedroom loft in Den Hague city center. We used the beautiful light that the loft has and incorporated this in our design to make something truly special! Spacious, gracious and mostly comfortable. Contact us to see how we can make your dream home come true!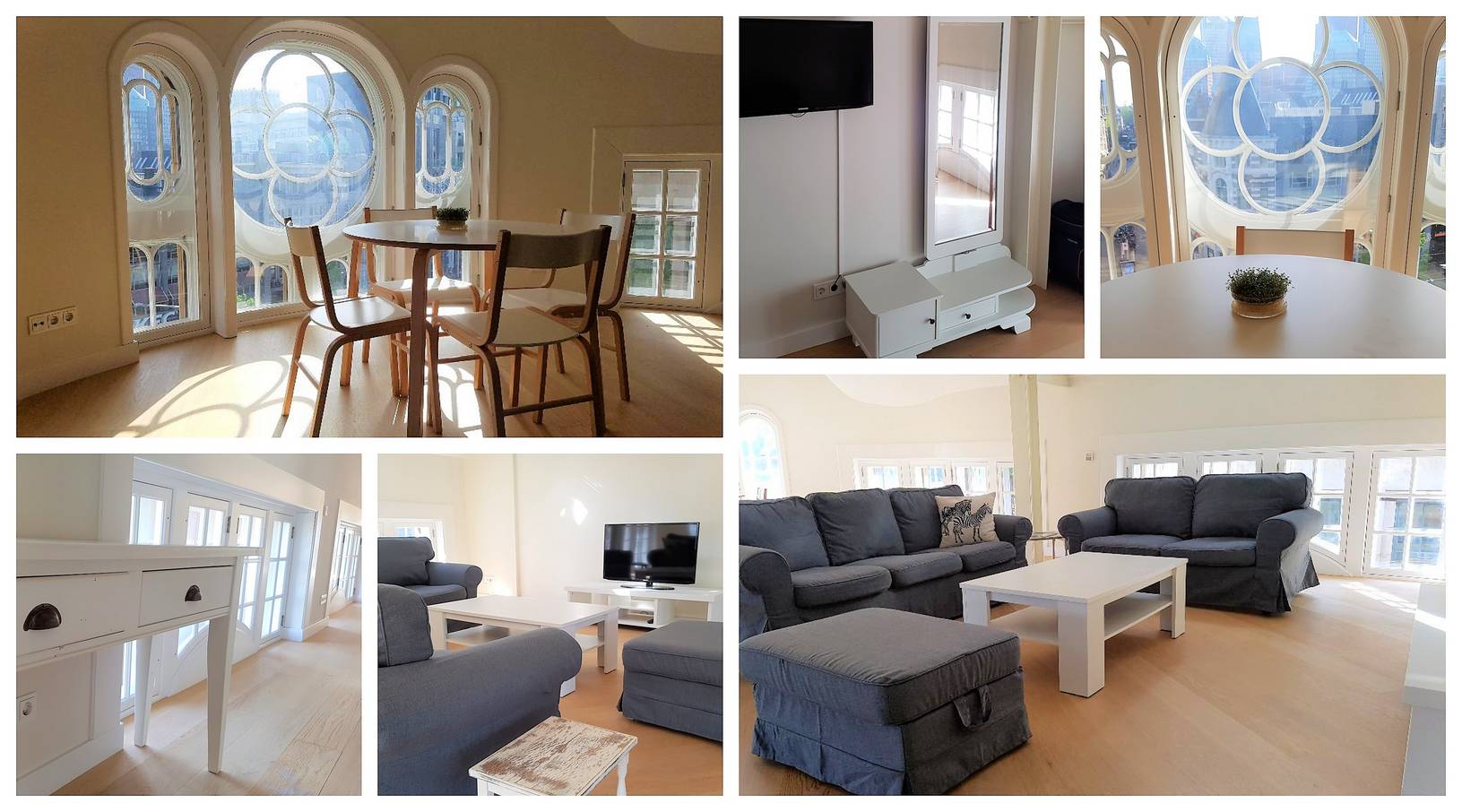 Bed
&

Breakfast – Antwerp
For this rental project we were asked to completely furnish a 5 room bed & breakfast in Antwerp. The owners wishes were to have a bright, spacious and unique interior in all the rooms of beautifully restored 1700 trading warehouse. We decided for white as a base colour and added per room different styles and colours to complement the historic character of the building. We furnished all rooms with unique interior found nowhere else which has all been restored and modernized by our team by hand.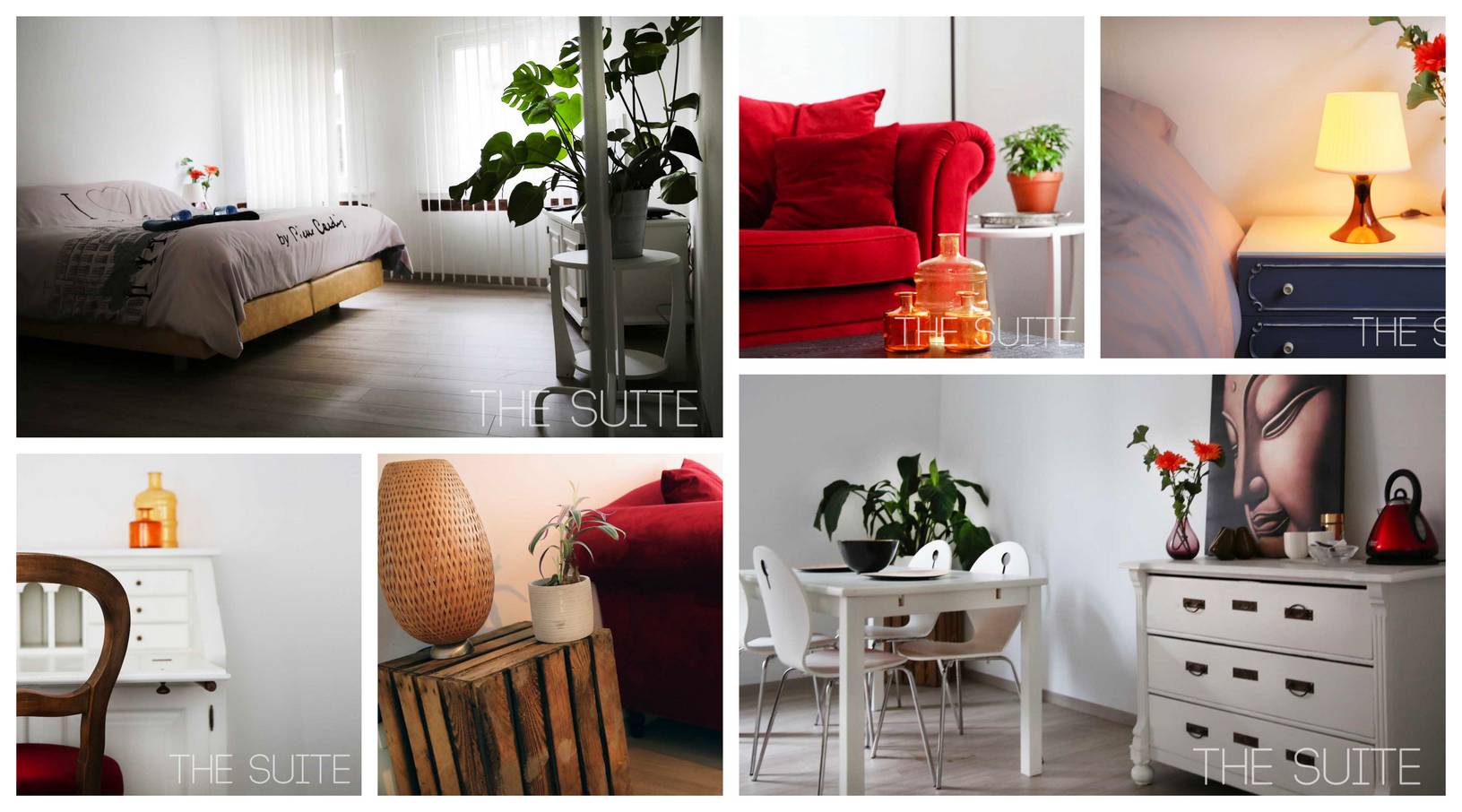 The Comfy Room – B&B Antwerp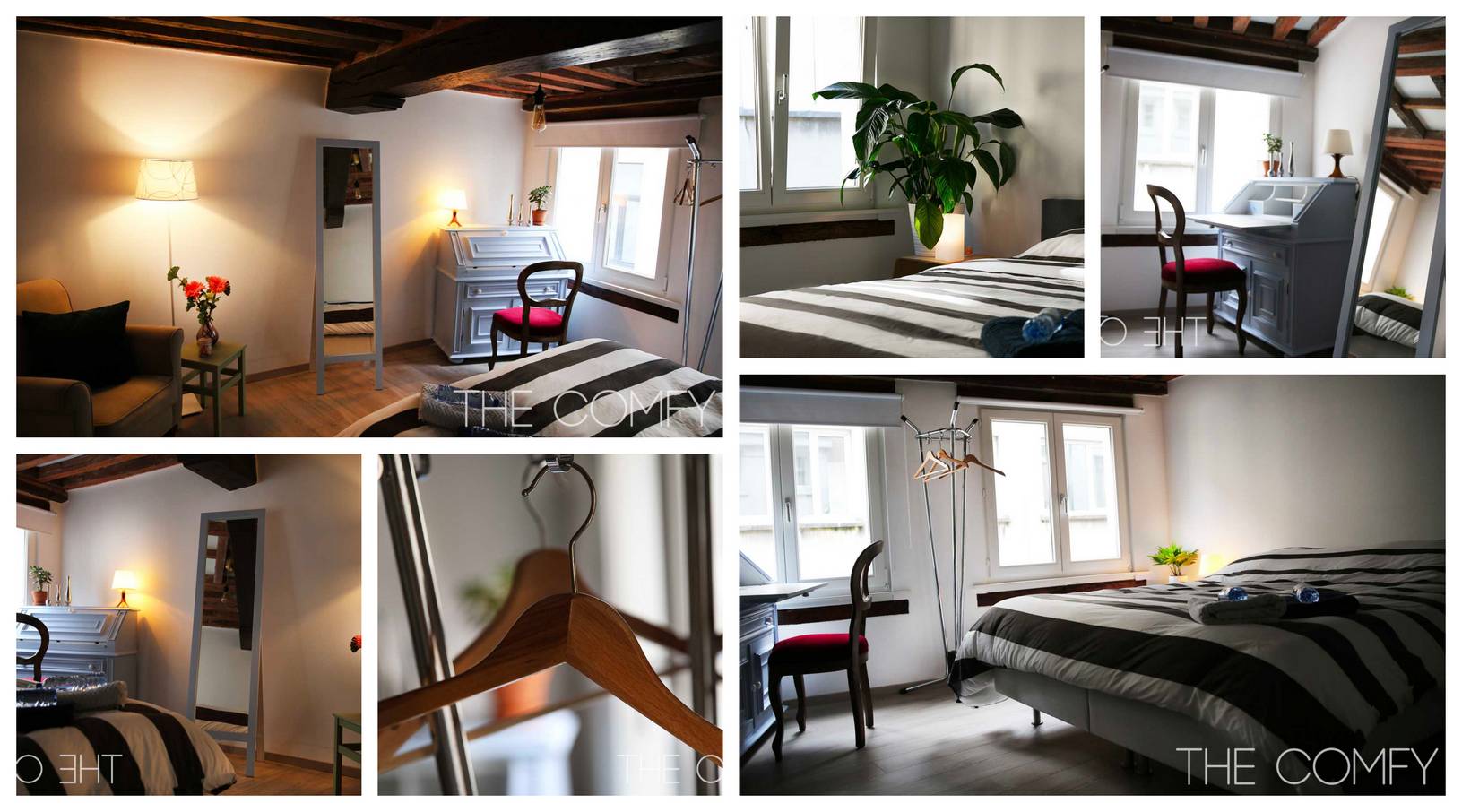 The Cozy Room – B&B Antwerp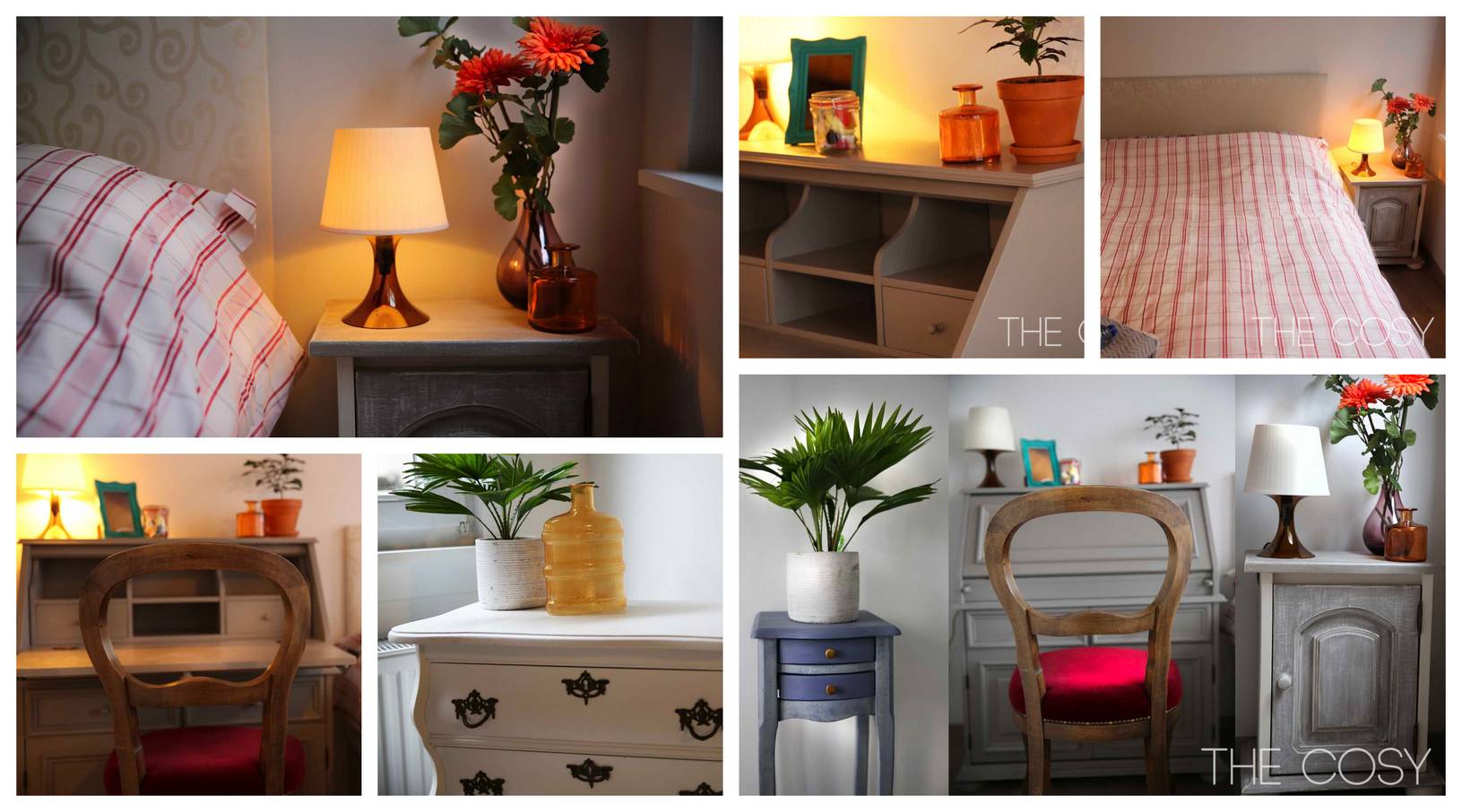 The Luxe Room – B&B Antwerp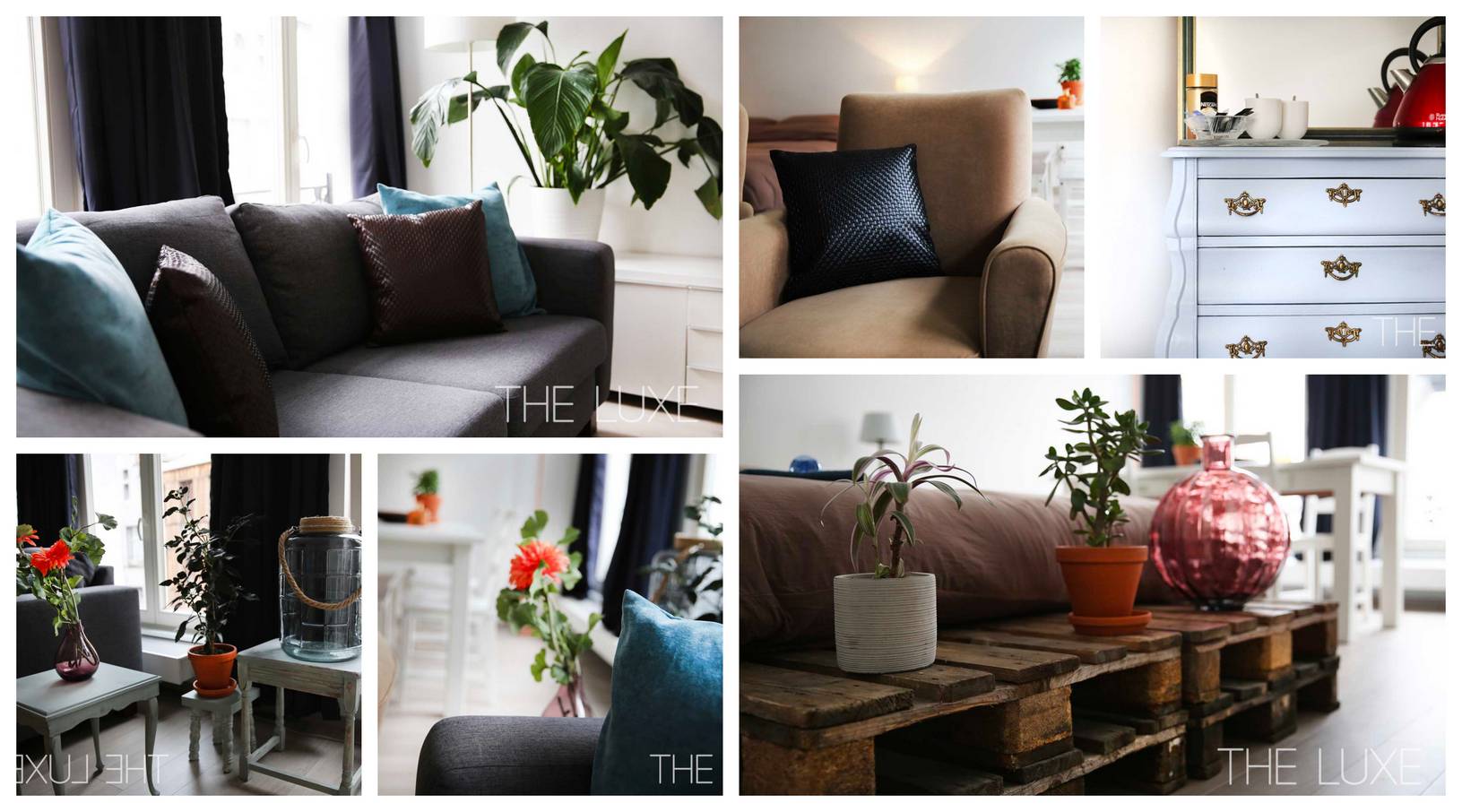 The owner of this beautifully located apartment in Utrecht asked for a bohemian and colourful interior that would bring nature into her home. Not too much furniture was her wish, as the apartment was just over 50m2. Because the walls were already painted deep green we complemented this with yellow and orange details in the living room and kitchen en suite. For the bedroom we refurbished a really great (late 1800′) make-up table and fitted it next to the comfortable queen-sized bed.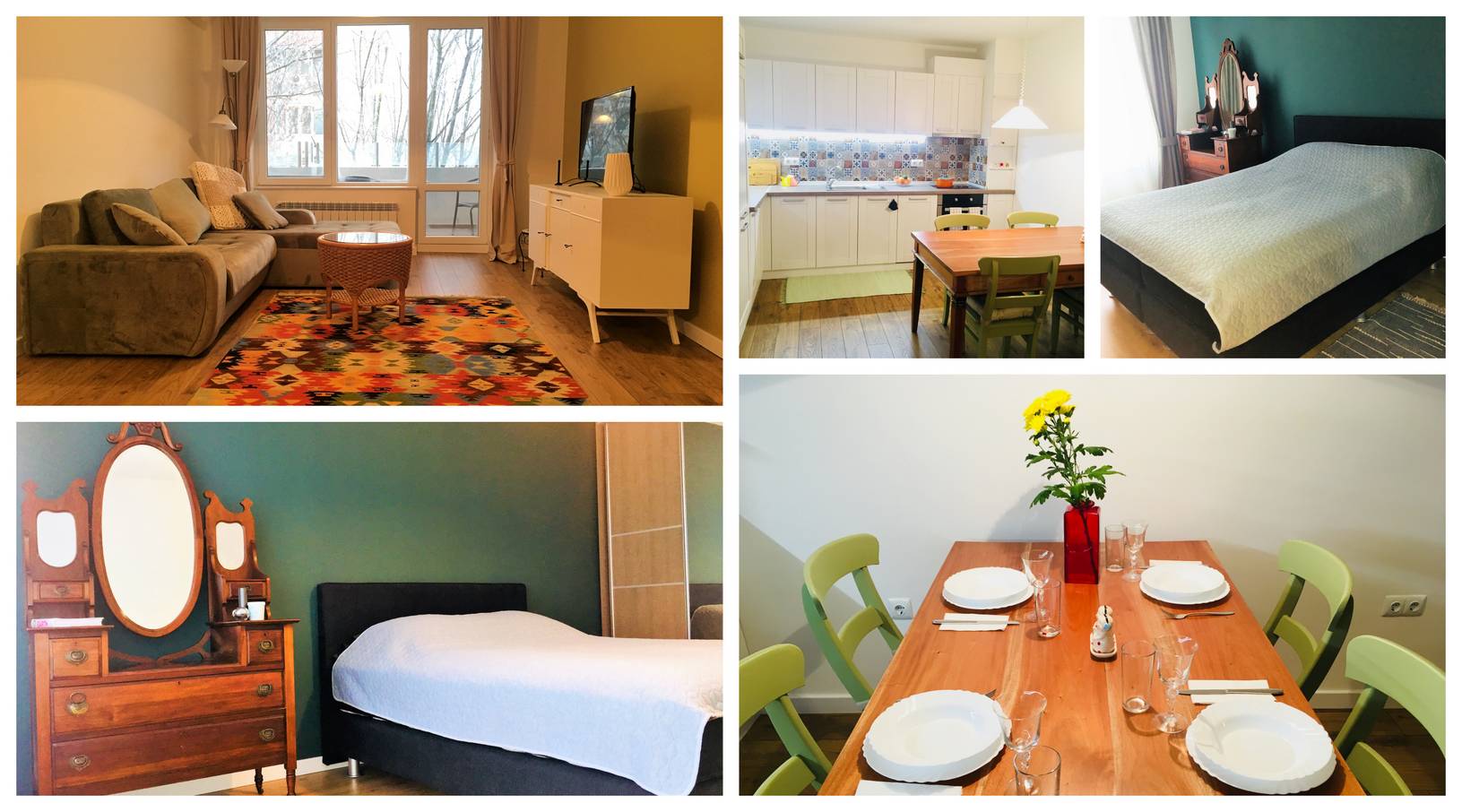 Historic Apartment Building – Amsterdam
We were very happy that we could furnish this apartment in Amsterdam city center. What a beautiful place to live! The owner didn't have any specific wishes, however all furniture had to be one of a kind. And, except for the sofa & king-sized boxspring, all of our furniture of course is one of a kind! Because of the limited space in the apartment we went with bright antique with wood-colours that really nice complement the historic wooden floor.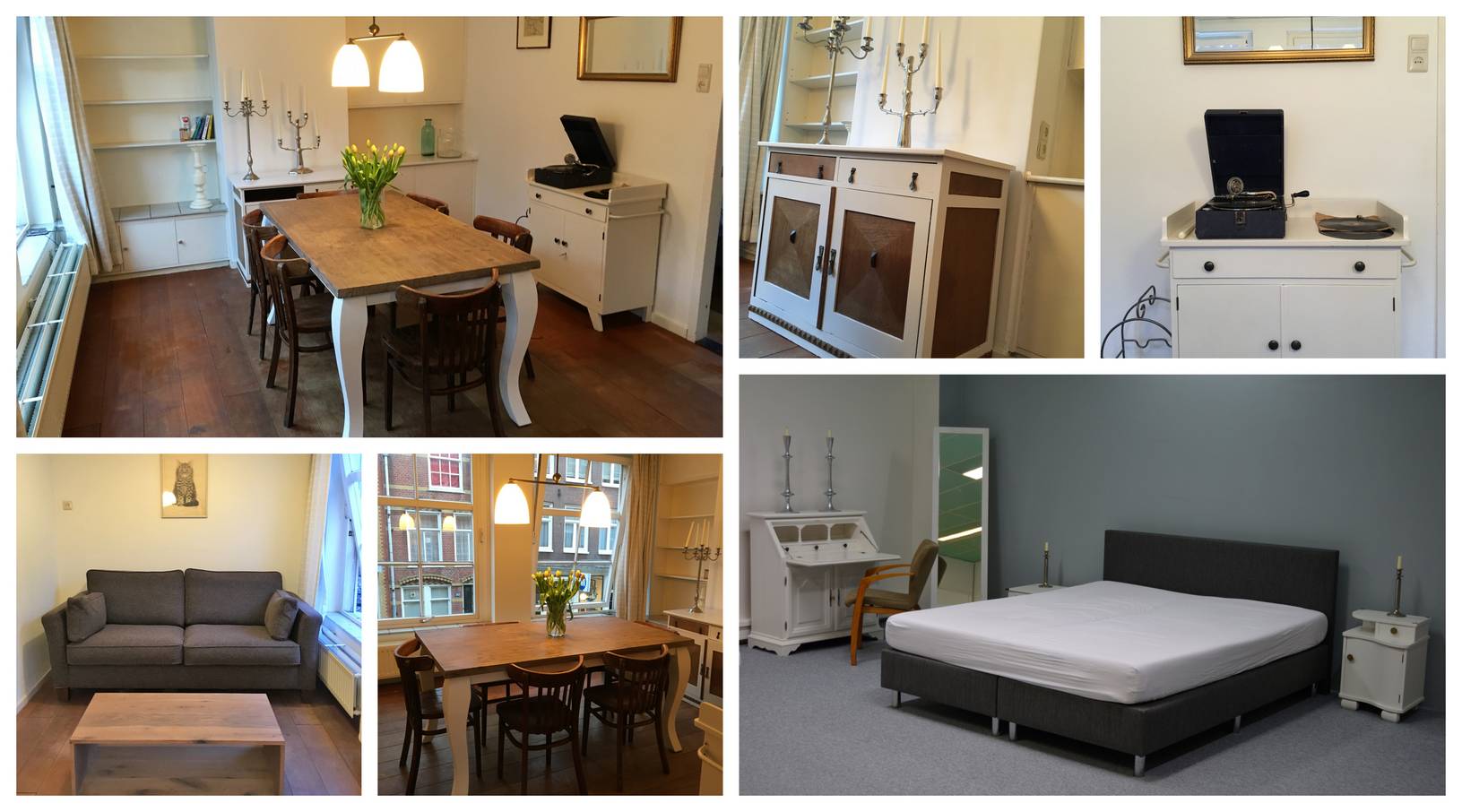 1930' Family House – Amstelveen
This 1930's house was decorated with both modern and antique furniture. Because it accommodated a family of 4 we had to make sure there was enough space to sit down, run around and to enjoy each others company in the shared living spaces. We furnished the master bedroom for the parents rather minimalist with most of the space occupying the monstrous 200*220 boxspring. The 2 other bedrooms for the children were all furnished with secretaries to study, chairs to chill and other miscellaneous.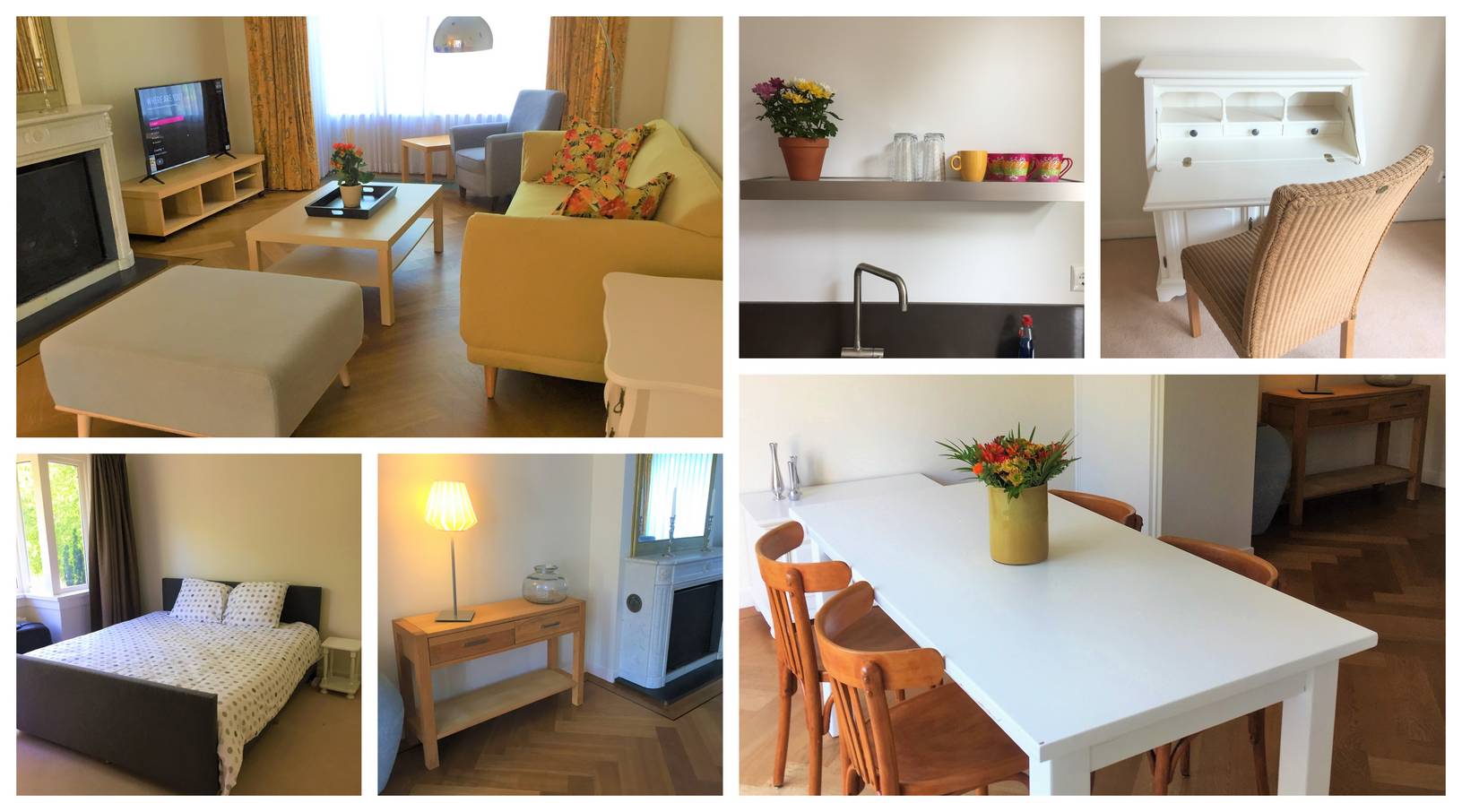 Late 1800' Maisonnette – Haarlem
For this interior in Haarlem we met one of the owners of the maisonnette and came over to hand-pick all the furniture items. Wishes: classic with a touch of today. The square teak dining-table with pre-war velvet chairs really make a presence in the living-room. Nice detail, some of the furniture in this home was saved from an old Syrisch-Orthodox church which we refurbished and modernized by hand to current standards.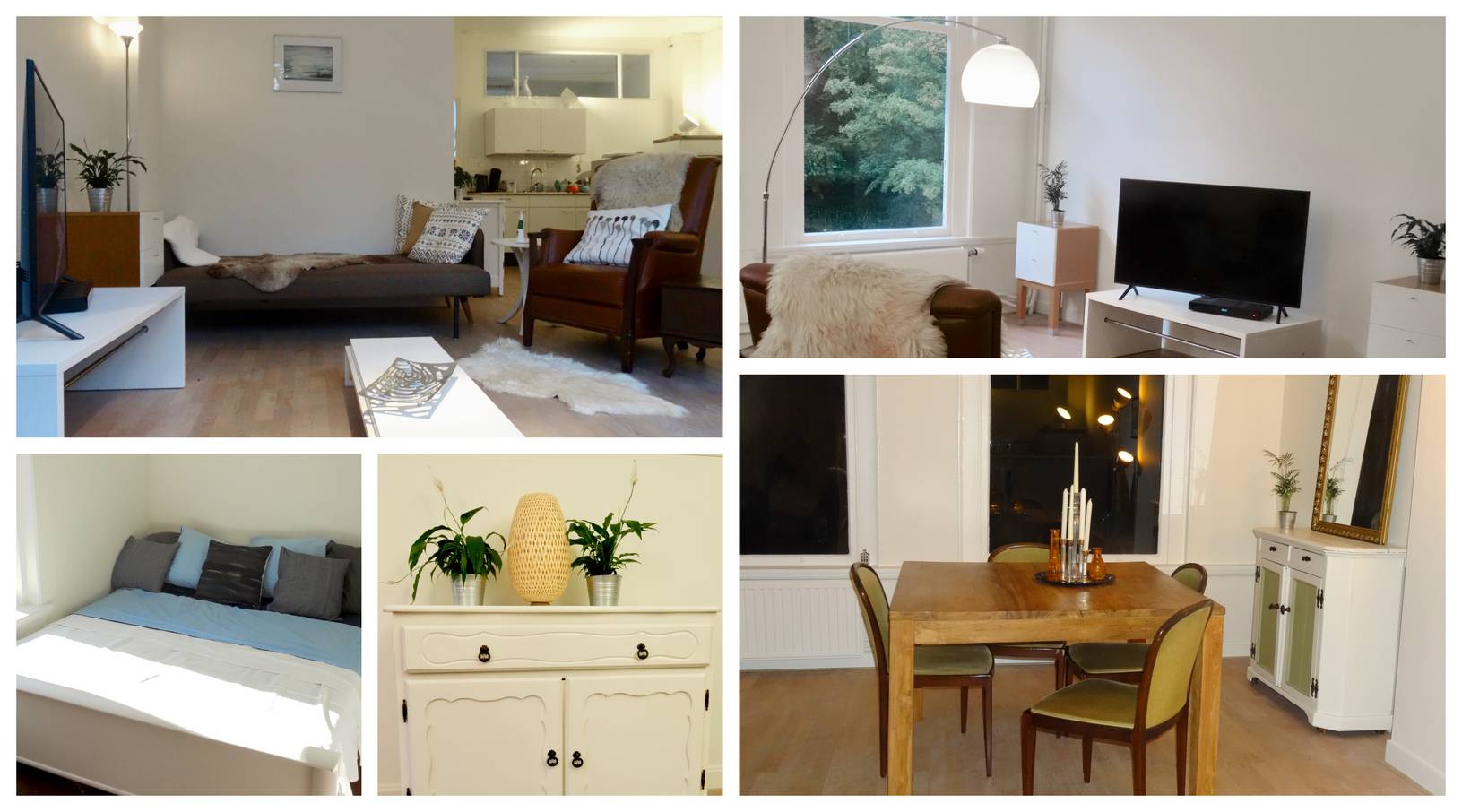 1970' Family House – The Hague
This ground-level house in Den Hague was furnished with a white & blue 1970′ vintage interior. Just as the house was! The blue vintage chairs designed by Jan de Bouvrie and gently complement the stone floor of the living room. Because it was nice weather and the owner of this accommodation had a large (huge) garden, we added an awesome lounge-set for 4 people for outside leisure!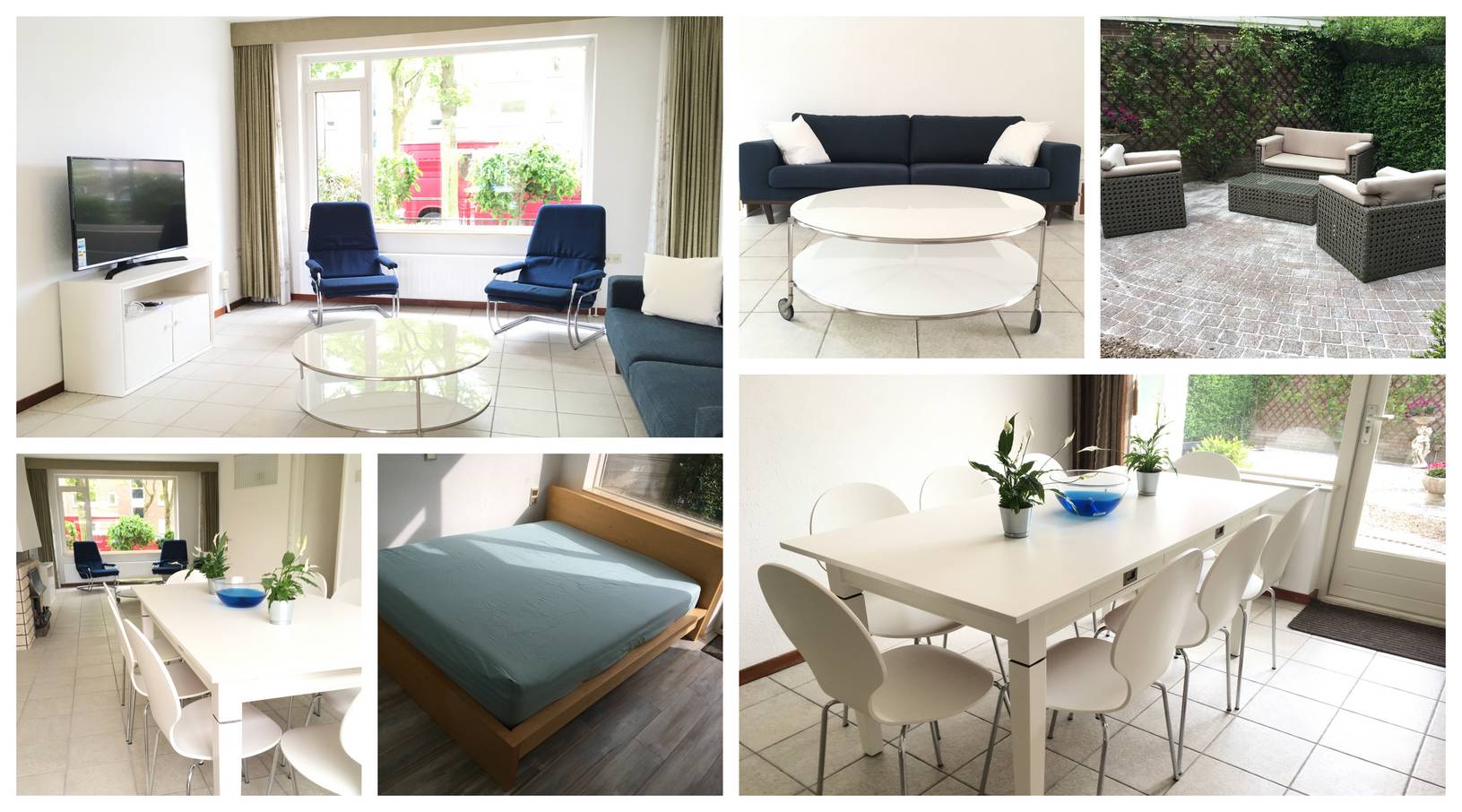 Steampunk Interior – Amsterdam
Our client wished a steam-punk interior that wasn't too Jules Verne. We did our best to make these wishes come true and we think we did. Please note that the images are not the best have ever made, but we really liked to share this unique interior with you.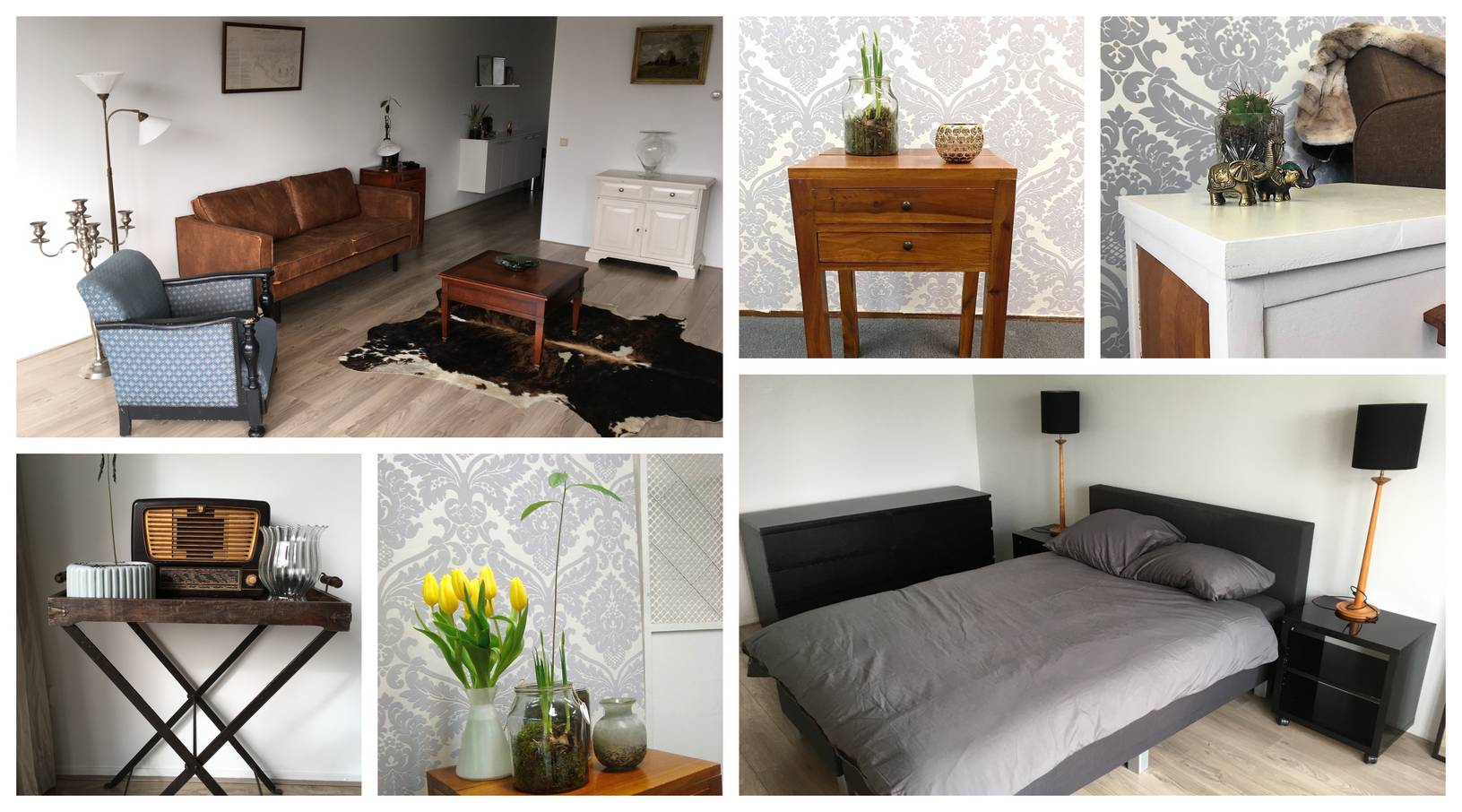 For this accommodation we had to create as many living spaces in 1 single studio. And we did! We created a bohemian style studio with many colours, plants, flowers and decoration that fits all needs for a newlywed couple! Nice touch, the large tapestry on the wall is an original made by hand in Northern India.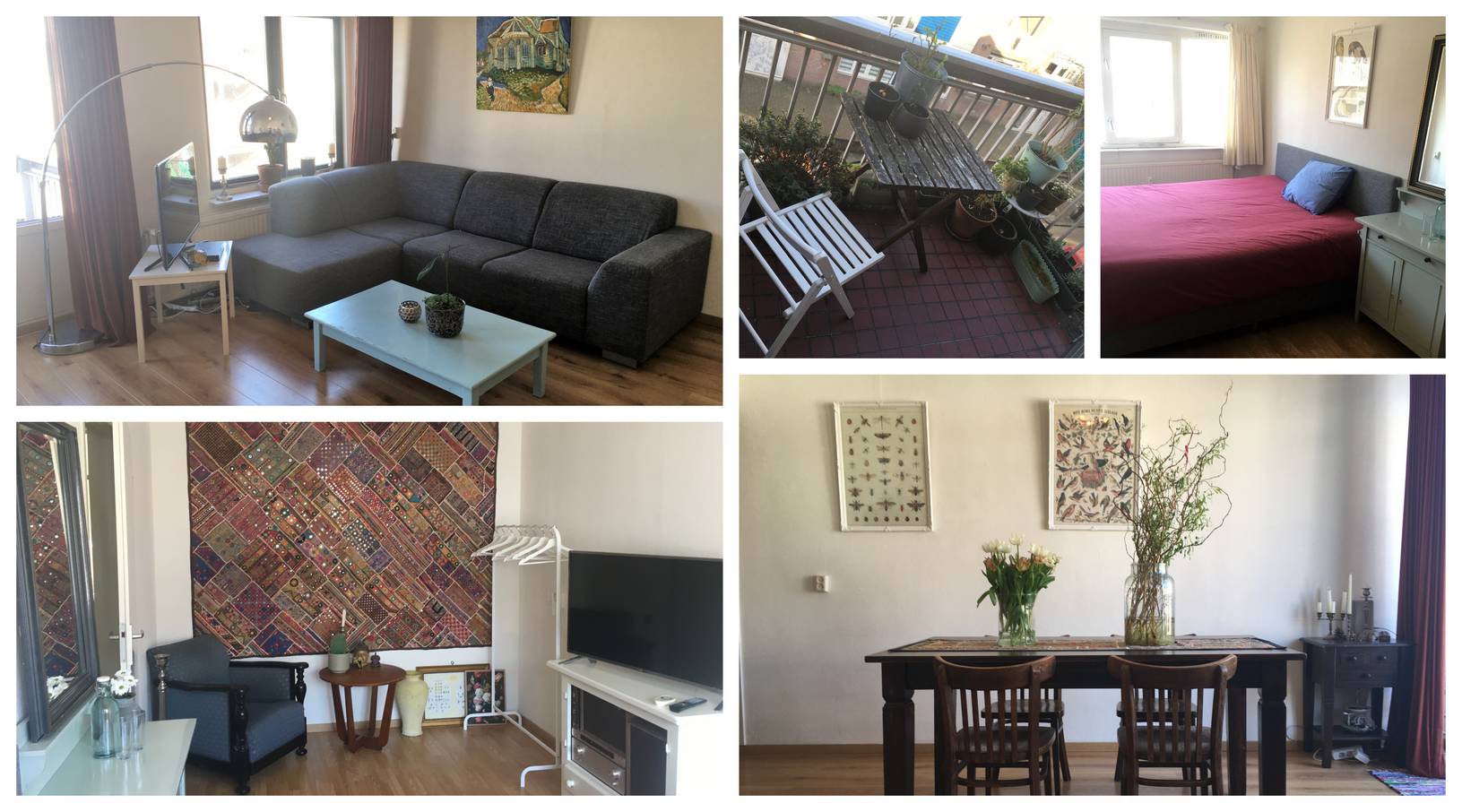 Maisonnette Livingroom – Enschede
For this project we decorated a very luxurious student accommodation in Enschede. We had to provide furniture that is sturdy and could handle a bunch of wildly partying dudes. Furthermore they wished a rural/rustic look for their shared spaces, all their bedrooms were merely furnished with queen-sized beds and a dressoir as they preferred to decorate their own private spaces themselves!